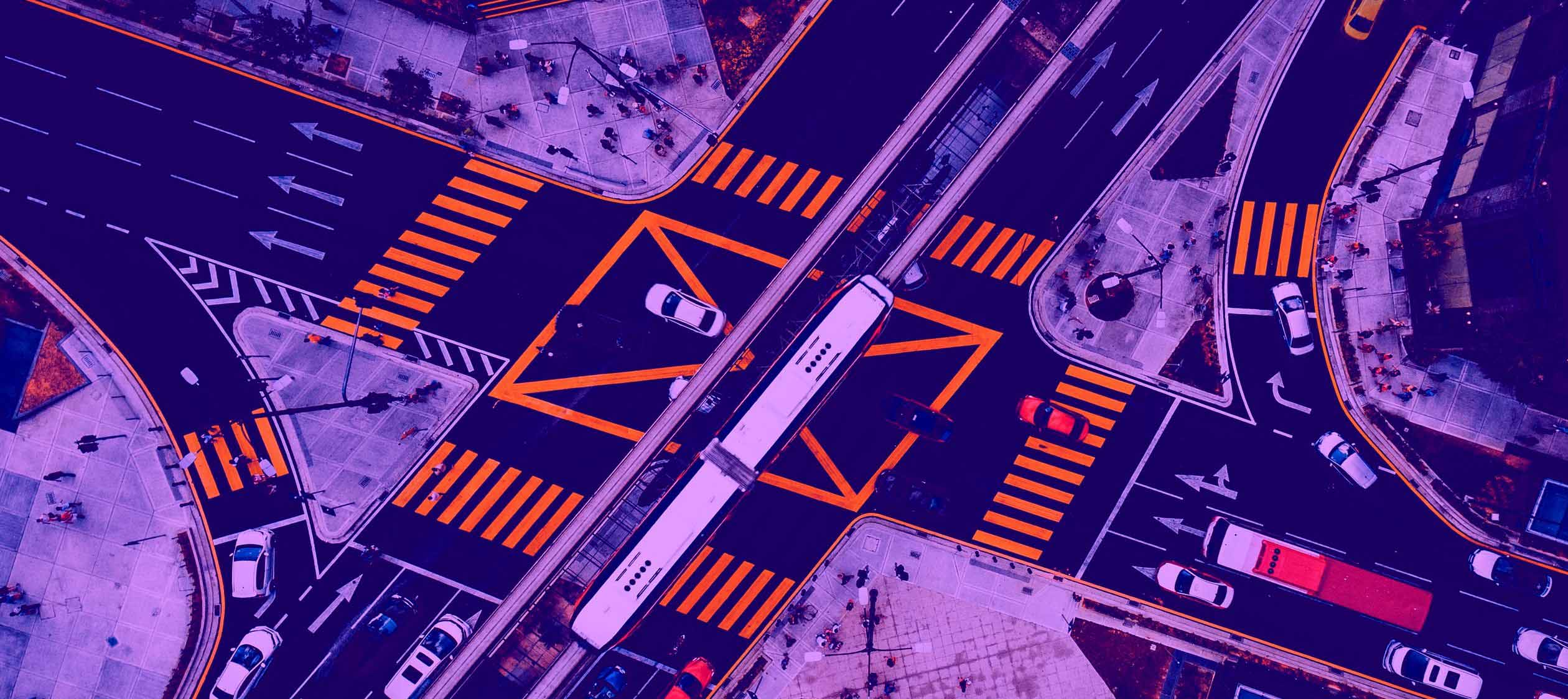 A Holistic Digital Transformation – the Key to Business Optimization
Novelty keeps knocking on our door

We've talked a lot about the changing environment in which we operate nowadays – either as individuals, enterprises or society as a whole. Certain voguish buzzwords, such as the Fourth Industrial Revolution, Industry 4.0 (its subset), or digital transformation can serve as useful labels to name some of the processes powering the onset of a new era.
And while it's less clear than when we switched from steam to electricity or from analogue electronic technology to digital electronics, the irreversible shift from simple digitization to innovation, based on combination of technologies (IoT, AI, robotics, augmented reality, 3-D printing, etc.), is forcing companies to reevaluate the way they do business.

Behind the lingo

'Fourth Industrial Revolution' is a term first introduced in 2015, which encompasses the age of technologies that combine hardware, software, and biology (cyber-physical systems), highly advanced in the spheres of communication and connectivity. The current time is being marked by breakthroughs in emerging technologies in fields such as robotics, artificial intelligence, nanotechnology, decentralized consensus, quantum computing, biotechnology, the Internet of Things (IoT), fifth-generation wireless technologies (5G), 3D printing and fully autonomous vehicles.
'Digital transformation' on the other hand covers the fast-paced and profound metamorphosis of business and organizational processes, capabilities and models, designed to enable growth with a mix of digital technologies. Although chiefly used in a business context, digital transformation also impacts governments, public sector agencies and various organizations which are involved in tackling societal challenges.

Who thrives in the current era?

Among the new desired competencies to attain with the use of the new tools are the capacities to be more agile, efficient, people-oriented, well-organized and able to change the status quo for the purpose of gaining new information and service-driven revenues. Some of the new digital solutions enable also new types of innovation and creativity, and these companies which strive towards continuous optimization across processes can truly have the chance to become leaders in the digital solutions realm.
Although already underway, digital transformation is not proceeding at the same pace everywhere. European consumers are heavily invested in digital technologies, however, the EU businesses have a long way to go to fully explore the potential of digitization. As European Commission's 2019 Digital Economy and Society Index (DESI) shows, Finland, Sweden, the Netherlands and Denmark have the most advanced digital economies in the EU, followed by the UK, Luxembourg, Ireland and Estonia. On the opposite pole are Bulgaria, Romania, Greece and Poland, who score the lowest on DESI.
In a 'Business digitization' category – encompassing electronic information sharing, use of social media, big data analysis and cloud solutions, as well as e-Commerce – the highest level was reached by Ireland, followed by the Netherlands, Belgium and Denmark. When it comes to e-business technologies, the leading countries are again the Netherlands, Finland (forerunner in the use of cloud solutions) and Belgium (the most advanced in electronic information sharing).
As regards governments, which can make a very productive use of digitization by lifting the administrative burden off of citizens and firms – non-other state than Estonia has one of the most advanced e-governments in the world, with 99% of public services available online and 96% of people filing their tax returns electronically.

Digital business transformation areas

Among the domains predisposed to be subjected to digital transformation are business ecosystems, models, and processes, business asset management, organizational culture, partnership models, customer as well as worker and partner approaches.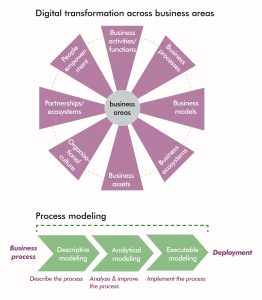 Let us take a closer look at the issue of business processes and the question of how we can model them. Each business process is a collection of related, structured activities that happen within an organization or company, aiming to bring about a specific, desired effect. A business process is, for example, issuing of invoices. Namely, all the activities that run in a company from the moment a need to issue an invoice arises. This supposedly trivial example is in reality a quite lengthy business process that goes through several departments in the company until the entire process of a sale of a service or a product is finished, so a proof of purchase can be issued.
Of course, there is a plentitude of processes like this. They take place not only in companies but also in institutions, foundations and sole proprietorships. As a result of their complexity and distinctiveness, a management branch encompassing business process management and systems engineering was created, called: Business Process Modeling (BPM). BPM is the action of representing processes of an enterprise in order to analyze, improve, and automate them. The simulation is commonly performed by experts comprising business analysts, who provide expertise in the modeling discipline and subject matter professionals, who have specialized knowledge of the processes being modelled.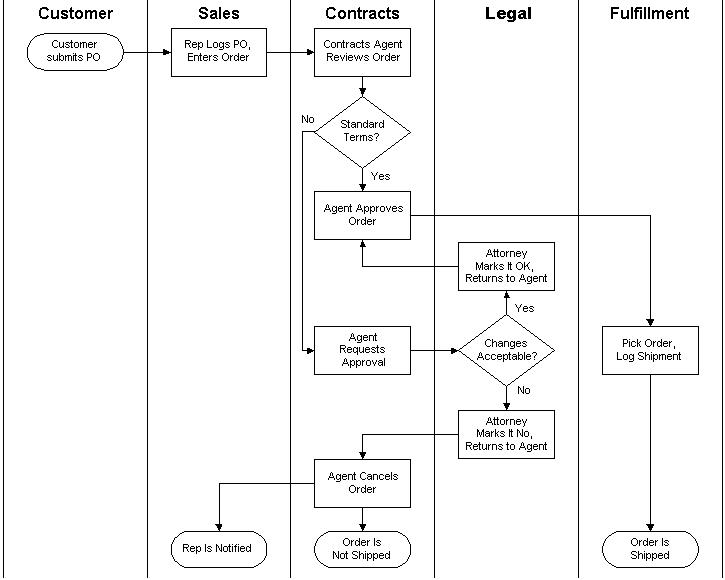 Approvals – flowchart of a business process; source: Wikipedia
Valuation of the benefits to digital transformation

The act of describing all stages of a particular business operation in the form of a model allows us to simulate how a business process progresses and capture the space for automation. It may expose some previously unidentified steps as suboptimal or unnecessary, in case unassociated people from different departments, responsible for only slices of the process, have not realized they were duplicating the work of their colleagues.
The traditional modeling tools were introduced to illustrate time and cost, while modern tools focus on improving multidimensional, cross-functional activities. New methodologies, aimed at streamlining commercial operations, include business process redesign, business process innovation, business process management, or integrated business planning, to name a few.
Business process modeling is primarily intended to enable attaining higher quality with lowered operational costs and less downtime, as well as to elevate customer satisfaction, but it also serves as documentation and formalization of the workflow.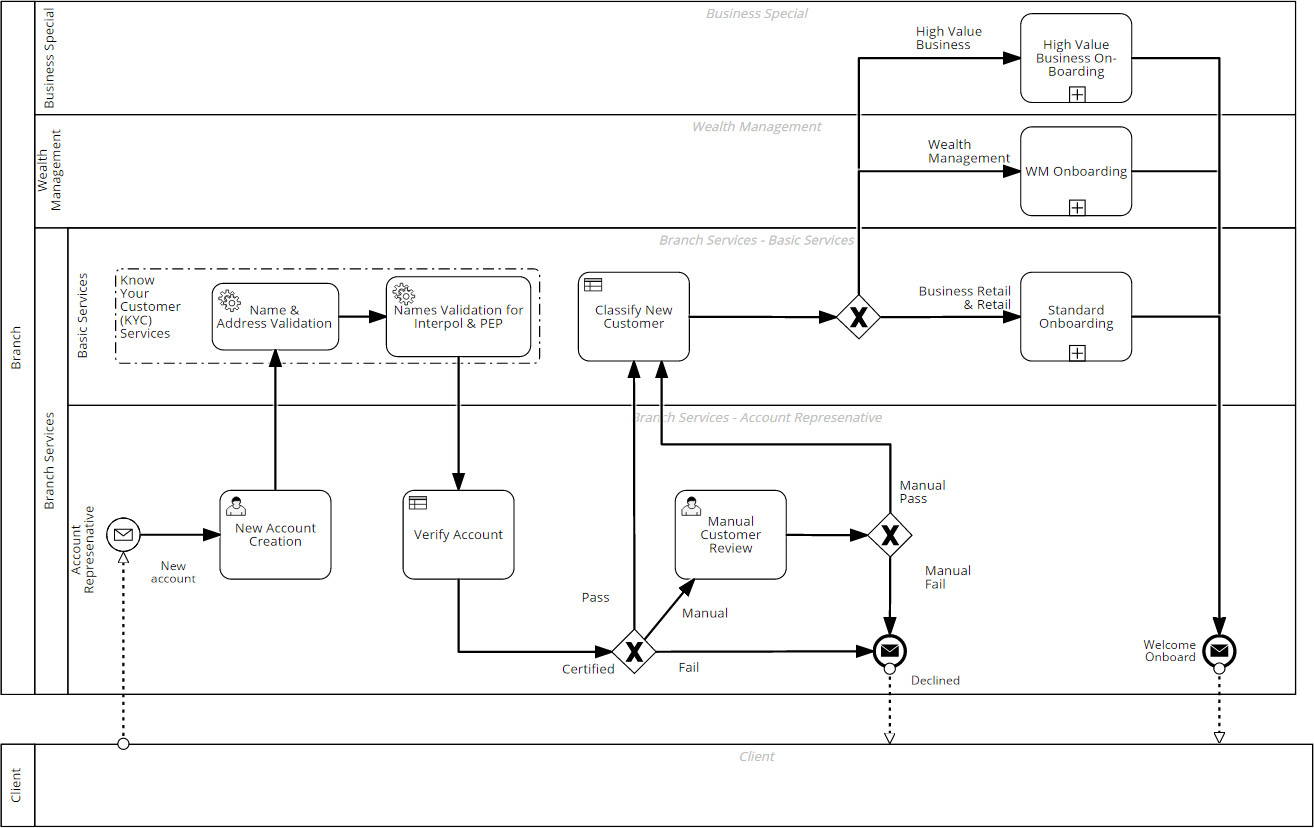 BPMN Process that has two decisions in the process flow; source: Wikipedia
Description and simulation of business processes

As more and more IT systems were being developed and implemented in ever larger companies, every so often understanding of business processes would become difficult. The reason behind it is a continual specialization of various industry segments, which makes it difficult for the programmers who automate business processes to understand them in their entirety. One of Inero Software's cases was the task of automating the process of settling water and rain fees in the port of Gdynia. In order to program and improve this business process it required us to understand the specificity of the business that runs outside of our area.
An activity that aims to present business processes in such a way that they are understandable for both IT specialists and those who carry out these processes (non-IT specialists), is called Business Process Model and Notation (BPMN) – a standardized way of recording business processes. The motor behind its creation was the aforementioned intercommunication challenge. BPMN allows you to not only describe particular business processes, but also model them after they have already undergone a digital transformation. It is supported by over 70 various tools, among others iGrafx, ADONIS, Borland, DYSANT and IBM tools.
Even though describing business processes with BPMN is more tricky to execute at large companies, it occurs there more often, as the gains are much more tangible. In a large company, divided on various departments, where daily interactions with people who often do not know each other or are located in different buildings or cities are limited, deploying BPMN to business processes not only grants us a view of all their stages, but also enables us to pick up substandard actions, making a huge difference in running smooth operations.

There's no end to innovation

Even though BPMN represents just a fraction of the methodologies used over the years to document business processes, it's certainly a good step into the digital age. More than just a buzzword, it's a crucial element of ongoing technological evolution and innovation with a clear purpose, namely to allow us to enrich the overall culture of the professional activities we execute.
Inero Software provides knowledge and expertise on how to successfully use cutting edge technologies and data to shape corporate digital products of the future.
In the blog post section you will find other articles about IT systems and more!
keywords:
#DigitalTransformation, #FourthIndustrialRevolution, #Industry4.0 #BusinessProcess #BusinessProcessModeling #BusinessProcessesOptimization, #BPM, #BPMN, #ProcessThinking